Diagram -Incidence of Apathetic Children important Evidence in Trial to come against Swedish Public Service
Important Diagram Incidence Apathetic Children in Sweden
Incidence of Apathetic Children in Sweden
The diagram shows the incidence of so called apathetic refugee children in Sweden describing that the epidemic totally disappeared after Dr Thomas GA Jacksons interview in Swedish Newspaper Svenska Dagbladet December 2005 (Svenska Dagbladets position is in Sweden corresponding  to Frankfurter Allgemeine in Germany or The Telegraph in UK) and one month later Dr Jacksons article published in weekly medical paper "Dagens Medicin" 18th of January 2006. Lawyers, traffickers, criminals realised the hoax/assaults were disclosed. Many clinical pediatricians supported in secret Dr Jackson but did not want to tell it openly as activists from Swedish Pediatrician Association worked closely with journalists at SVT.

                                                                  December 2005

                                                                 January 2006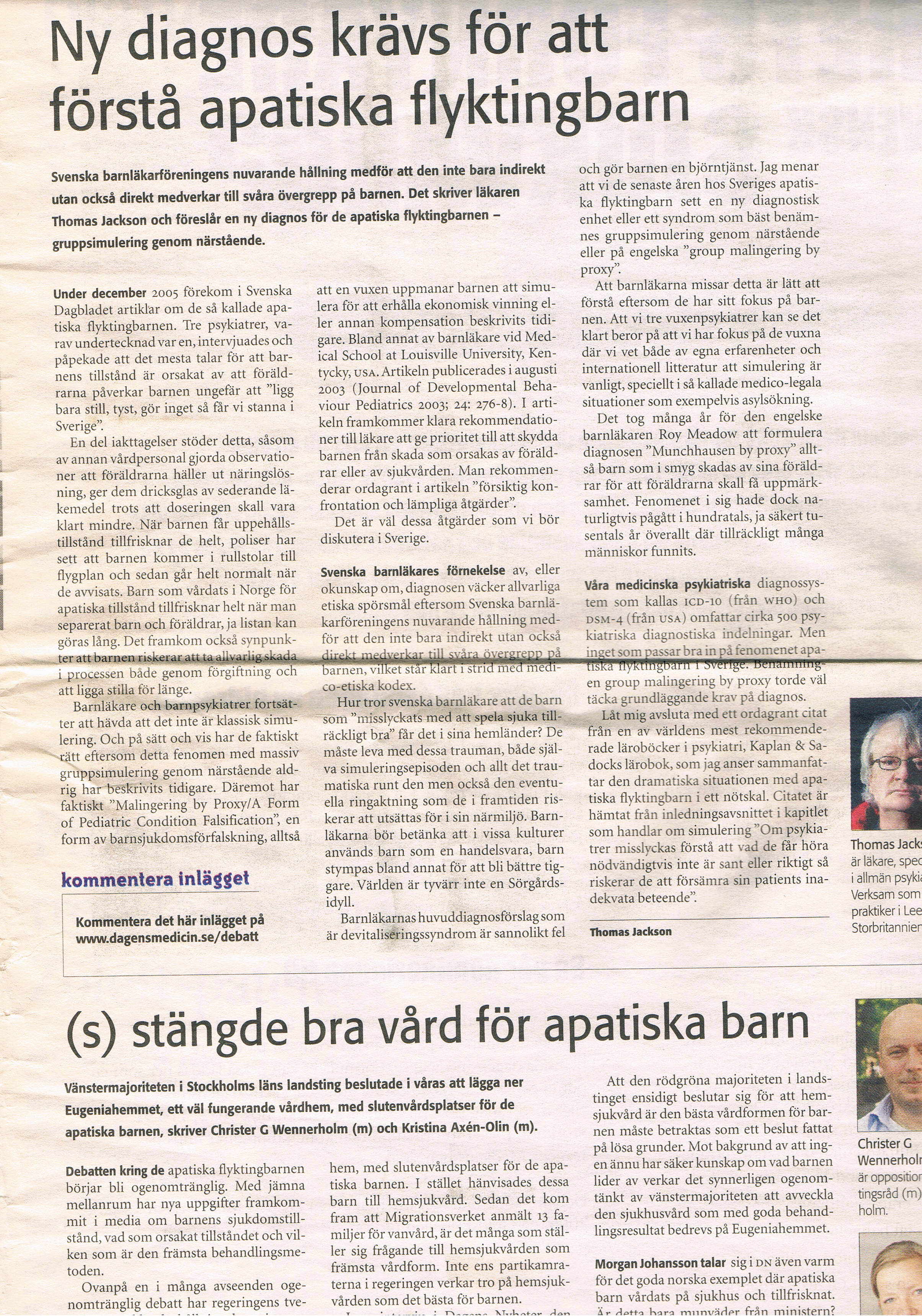 These two article went like an earthquake through Swedish medical establishment because they made allegations against pediatricians that they did not understand what was going on.
SVT and their manipulated reports
September 2006 Swedish Public Service started something that rightly should be called criminal activities initiated by well known socializts like Nils Hanson at SVT committing news fraud that the whistleblower Dr Jackson was a nazi. Dr Jackson is namely an outspoken conservative christian right wing sympathizer which in socialistic Sweden is close to being a nazi.
Staged editing
Swedish Public Service (SVT) edited an interview with Dr Jackson that at the same time he told "I am against multiculture – I want to live in a secular country based on traditional christianity" they only published "I am against multiculture" this at the same time that SVT broadcasted pictures of these apathetic children unconscious, tubefed on stretches, wheelchairs etc. SVT then refused Dr Jackson any public replies. SVT even threatened Dr Jackson in an email up to six years in prison if he continued to object to SVT:s version of the epidemic (this email is public).
The well known Scandal is now disclosed but few want to hear about it
The enigmatic epidemic is today well known over the world. A so called documentary about the children based on SVT:s fake reports was even this year Oscar nominated "Life overtakes me".
Everyone in Sweden today know its severe child abuse where children have been starved to apathy and some to death after year long sufferings.
Well known and respected journalist and author Ola Sandstig has year 2019 interviewed now grown up former apathetic children, doctors and health care workers in his book "De apatiska barnen – och samhället som svek" (The Apathetic Children .- and the betrayal of a Society). The childrens stories how they were beaten and starved are heart breaking.  Ola Sandstig was rewarded the Golden Spade by Swedish Journalistic Association for his digging in this tragedy.
Link to his book that ought to be translated to many languages:
https://www.adlibris.com/se/bok/de-apatiska-barnen-och-samhallet-som-svek-9789180020138
A Scandal that is threatening Swedens Self-Image
Today there is fact resistance about the tragedy.
SVT that is the by far most important news outlet in Sweden cant possible admit that their fake news year 2008 where they totally denied any abuse of the children and called all whistleblowers xenophobic and nazis, restarted the horrific child abuse epidemic.
2. Karolinska Institutet, the Nobel Prize Institute, which made the research the hoax is based upon, is unwilling to admit their responsibility. It might spill over to the prestigious Nobel Prize. So the children are stuck in an impass.  Swedes value their Nobel Prize more important than severe torture on refugee children. A fact that if it becomes public risks spoiling one of our worlds most respected institutions – The Nobel Prize. The journalist Ola Sandstig has told that children that try to speak up are seriously threatened by criminal traffickers so probably no more children dare to tell what they have been through. The abused children have no trust in Swedish society and know that Swedish society will not protect them. They also know that Swedish establishment dont want this issue to be discussed. Probably the biggest medical scandal ever.
Here is an overview about the tragedy
https://www.bioedge.org/indepth/view/only-in-sweden-but-why/12361