About Swedens Crimes against Humanity related to Refugee Children please see below!
********************************************************************************
Dr Jackson discusses A$AP Rockys situation in Sweden July 2019. Over 58000 viewers – English subtitles
 ********************************************************
Swedens Humanitarian Catastrophe
Dr Jackson gives lectures for free all over the world regarding MAL-BP i.e. Malingering by Proxy situations for children, how extremely painful they are for the children and agonizing for doctors. Its a new frontier within research on child abuse and Dr Jackson is regarded as a leading expert internationally as he has the courage to blame his own profession to be a sine qua non to these specific staged assaults on helpless children.
Doctors associations dont wont to discuss MAL-BP as they themselves are guilty of these very sophisticated crimes against children where doctors are lured by false information from parents or caretakers to involuntarily pseudo diagnose and maltreat children as in medical negligence cases.
The children then become ill and eventually die in severe cases.  In Sweden in tragic cases refugee children are kept alive in unconscious and anxiety based stuporous states to gain fortunes for adults, sometimes family members, in some cases traffickers, that are paid by the Swedish state to keep them alive by feeding them by tube. Doctors, nurses or any other that object and raise concern are labelled xenophobic.
To understand why atrocities and crimes like these can take place in a European democracy one has to understand that main stream media called whistleblowers, including minister of immigration Barbro Holmberg, who by the way is the golfer Tiger Woods ex-mother in law, that initially gave alarm about these crimes, for neonazis and incompetent creating a public opinion that everyone that raised concern was labelled rigth wing extremist.  Our prime minister Stefan Löfvén, Labour,  recently called SwedishDemocrats, Swedens third biggest political party with 17% of mandates in parliament for exactly that: neonazis.    In Sweden anyone that objects to socialism or islamization are called things like that.  A little bit too dramatic and upside down I would say.
Or lying or incompetent doctors, this by Swedish State Television and Radio. This explains why for a long time it has been silent.  But now a Facebook group including immigrants to Sweden that are well integrated raise concern and support Dr Jackson. https://www.facebook.com/stoppabarnmisshandel/?epa=SEARCH_BOX
These people are very brave as they still take a risk of being labelled xenophobic by MSM but the risk today is significantly smaller than before. Dr Jackson has by the way since many years been supported by alternativ media and immigrants but they have not been allowed by Swedish public services to gain significant momentum. Instead public services and the Labour Party have called these media for undemocratic neo-nazi media even though they are democratic and represented in parliament.
Here is a link to Dr Jacksons personal website:
Om A$AP Rockys situation i Sverige juli 2019. Intervju med professor Thomas Jackson MD, PhD Director vid European College of Psychiatry, Leeds, United Kingdom
that objectively discuss the unbelievable tragedy in Sweden where Swedish media, probably by pure ignorance and because reality contradicts medias narrative that adult asylum seekers never do anything wrong, have prevented the truth from coming to public awareness. A "sweep under the carpet strategy" by pro immigration activists among media owners, journalists, doctors and politicians.
Contact Dr Jackson om mobile 0046705093176 or email   thomas.a.jackson@hotmail.com 
Dr Thomas GA Jackson M.D. PhD – leg.läk/psykiaterspecialist
Om Dr Jackson
Dr Jackson har efter 40 års intensiv klinisk verksamhet, 20 år inom psykiatri som psykiaterspecialist och 20 år inom somatiken där han är arbetat 4 år inom akut internmedicin alltså livshotande tillstånd på sjukhus med intensivård, 10 år allmänmedicin och 6 år ortopedisk rehab-medicin, i tre olika länder Sverige, Norge och England synnerligen gedigen erfarenhet.  Omfattande vård av allt från kroppsligt och psykiskt svårt sjuka patienter till enklare vardagskrämpor.
Orsaken till att han jobbat inom flera olika specialiteter är Dr Jacksons strävan efter att förstå hela kroppen inklusive själen och samspelet mellan kropp och själ så kallat psykosomatisk medicin.
Redan när Dr Jackson var 30 år gammal var han Sveriges ledande forskare på hjärnans limbiska systems betydelse för kliniska processer. Limbiska systemet är området i hjärnan där våra känslor och minnen är lokaliserade, se följande föreläsning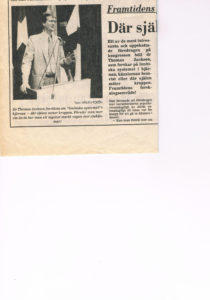 Få läkare i Sverige, kanske ett hundratal? torde ha den bredd, erfarenhet från andra länders hälsotjänst och diagnostiska kunskap som Dr Jackson har. Det var f.ö. just därför Dr Jackson var den som löste det svåra diagnostiska problemet med s.k. apatiska flyktingbarn där Dr Jackson enligt läkaretiska regler agerade till förmån för de utsatta flyktingbarnen. Dr Jackson stod på sig mot en i viss mån hysterisk svensk journalistkår som kallade dem som sa sanningen om barnen för högerextremister. Dr Jackson visste att i England fanns det specialdiagnostik för det som var de s.k. apatiska barnens öde i Sverige nämligen "Induced and Fabricated Illness in Children". I USA kallas övergreppet malingering by proxy, förkortas MAL-BP.
Idag skäms Sveriges journalister ty de vet Dr. Jackson med sin kristna och traditionella medicinskt etiska värdegrund, som bygger på vetenskap och beprövad erfarenhet hade rätt, och journalisterna fel. Doktor Jacksons värdegrund stämmer väl överens med Sveriges Kommuners och Landstings centralt framtagna värdegrund och Dr Jackson uppmanar regionala landsting att studera SKL:s centrala värdegrundsmaterial som trots att det är tio år gammalt är väl värt att implementera i landstingens ansvarsområden.
Kristen själavårdsverksamhet
Då vi som arbetar vid mottagningen har protestantisk respektive katolsk tro har vi kristen själavårdsverksamhet för nutidsmänniskan som önskar reflektera över sitt liv i förhållande till sin tro. Men även för den kroppsligt eller psykiskt svårt sjuka patienten som önskar självavård utifrån protestantisk eller katolsk kristen tro.
Själavårdsverksamheten gör vi gratis men vi mottar då gärna gåva till Dr Jacksons Barnefond i Norge som arbetar med verksamhet mot så kallat medicinska barnövergrepp där barn utnyttjas i medicinska sammanhang som vid Munchausen- eller s.k. MAL-BP – övergrepp.   Dessa frivilliga donationer betalas till Dr Jacksons Barnefonds konto i Norge hos Sparebank 1 Östlandet med IBAN nummer: NO7118225318286       och BIC/SWIFT kod:         SHEDNO22   ange då vänligen namn, alla donationer från 10 kronor och uppåt är välkomna. Blir det mindre kostar bokföringen mer än vad vi får in på donationen.

Personlig tidsbeställning tisdagar/onsdagar 10.00-11.00
Telefon 070-5093176
Övriga tider sänd sms så ringer vi tillbaks