Message from Editor in Chief Acting Professor in Journalism Thomas GA Jackson PhD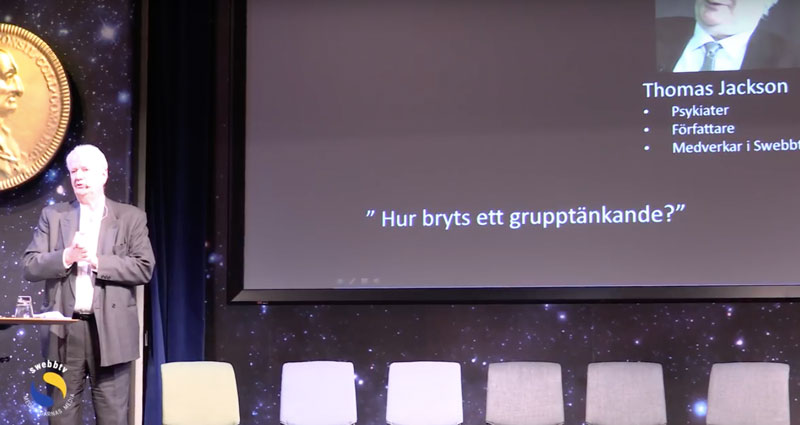 Dear visitors to this website Jajj.se
My acting professorship in Journalism in Leeds/UK, was rewarded myself thanks to my discoveries of journalistic copycat mechanisms in Swedens apathetic refugee epidemic. One of the worlds biggest and most tragic medical scandals.   Swedish journalists have at the time I published my findings never discussed copycat mechanisms related to this tragic epidemic. Anyone that opposes to this assignment is of course welcome to do so. Then please email   impo@live.se or sms or call 0047-92277296 Tuesdays 10.00-11.00 a.m. And we will on academic grounds explain to you about copycat mechanisms that explain it all. It is impossible for me to get a professorship in journalism in Sweden as the Swedish Journalistic Association in itself is guilty of instigating the epidemic of severe child torture that has been going on from anno 1998 and today anno 2022 i.e. over 24 years still exists. In short -Swedish journalists are too embaressed to admit they missed to disclose copycat mechanisms in the tragedy.
I will below give some more comments why I today work as a journalist.  In Sweden.
In short – its necessary!
This because Swedish journalism too often fails to give the public correct and reasonable objective information about what happens in our Swedish society.   Swedish journalism is onesided, biased, politicized and often in addition to this childish, narcissistic, pretty dumb. And it overestimates itself.   Therefor Sweden has an ever increasing number of new media outlets. And this is one of them.
Jajj is an abbreviation of "Jackson Jagar Journalists". These words are Swedish and translated to English "Jackson hunts Journalists".
Quite a provoking name some would say. Well, the reason I chose it is simply because the so called apathetic children epidemic in Sweden is a very cruel copycat epidemic of fabricated illness in children. The evidences for this are overwhelming. But as Swedish journalists for more than two decades have been in a constant hysterical seizure about immigration, and in constant hysterical denial of the truth about the so called apathetic refugee children and other issues, we who oppose to the hysteria have to be provocative. Otherwise we will be neglected and no one would listen.
Some years ago I bought some university journalistic course literature in English and Swedish. Its now time to practise what we at this website have learned from these books and associated fields of knowledge like law and social science etc.
Our competetive edge compared to Swedish Main Stream Media is that we are honest, ambitious, intelligent, fair, open for complaints and public replies.   If we publish anything that is wrong or assessed as incorrect or unfair we always ask for an excuse and of course give plenty of possibilities to public replies whoever is concerned.   Jews, muslims, communists, nazis and Swedes are all treated the same – with 100% of fairness and high morale.